Achieve Your Best Smile with Orthodontic Treatment
136 S. Bolingbrook Dr. Bolingbrook, IL 60440
Orthodontic treatment is an effective way to correct crooked teeth and improve your smile. Meet with a professional at Bolingbrook Dental Care to discover the best orthodontic treatment option to help you achieve your goals
Orthodontic treatment at Bolingbrook Dental Care can be used to:
Straighten teeth
Correct bite irregularities
Bring teeth and lips into proper alignment
Close unsightly gaps
Foster proper jaw growth in children
Healthy teeth and gums and enhanced self esteem are just a few of the many benefits of correcting your teeth with orthodontics. Discover the healthy, straight, beautiful smile you've been waiting for at Bolingbrook Dental Care.
Traditional Braces
What can you expect when you have orthodontic treatment? It all depends on what kind of treatment you need. At your first appointment, pictures and radiographic (X-ray) images of your mouth are usually taken, along with impressions of your teeth, so that a model of your bite can be made. This information will be used to develop a treatment plan. It may involve regular braces, with or without elastics (rubber bands). A specialized appliance may also be recommended for a period of time. Here are some of the most commonly used orthodontic appliances:
Metal Braces need no introduction. But you might be surprised to find they're smaller and lighter than ever. They may even offer some customized options, like colored elastic ties on the brackets. Traditional braces are comprised of brackets that are affixed to teeth and wires that are threaded through slots in the brackets. Wires are held to brackets by tiny rubber bands called "ligatures" or "o-rings." Brackets are generally made of stainless steel. Wires are made of metal alloys and deliver a constant, gentle force to move teeth.
Clear Braces feature brackets made of ceramic or composite materials which blend in with your teeth, making them harder to notice. They're suitable in many situations, but they cost a little more.
Lingual Braces offer the most unnoticeable form of orthodontic treatment because they are attached to the back (tongue side) of the teeth, where they cannot be seen at all.
Invisalign Clear Alignment
Straighter teeth. A healthier, more confident smile without metal braces. Invisalign may be an option for you!
What is INVISALIGN?
Invisalign is a clear alternative to wearing full braces to straighten teeth. Invisalign uses a series of comfortable and removable clear aligners to gradually straighten your teeth. These aligners are custom made for you and are designed to move your teeth to achieve results set by you and your dentist.
Each aligner is worn day and night for about 2 weeks. The aligners are easy to remove for eating, brushing and flossing. Each aligner is a slightly different shape to initiate gradual movement of your teeth.
The aligners are effective for a wide variety of conditions, including crowding, spaces/gaps, crossbites, overbites and underbites.
Aligners are virtually invisible! Most people won't even know you're going through treatment.
Aligners are comfortable and allow for easy cleaning. Simply take out your aligners to clean your teeth asusual. No manouvering around metal brackets and wires!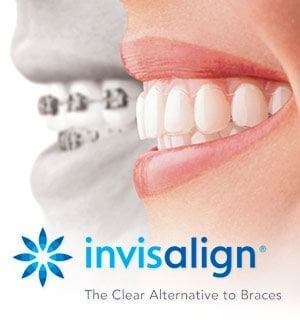 Improved Oral Hygiene — With an orthodontic appliance that is removable, you will be able to clean your teeth much more easily than if you were wearing metal braces.
A Discreet Look — If you consider your orthodontic treatment to be a private matter, or simply feel that metal braces don't fit with your self-image, a practically invisible form of orthodontic treatment might suit you.
More Dietary Choices — To protect metal wires and braces, some diet modifications are necessary. With clear aligners, you can still bite into an apple or a crispy pizza crust.
Comfort — The thin, flexible material of which Invisalign is made will not irritate the soft tissues of the mouth, as metal wires and braces can.
Teeth-Grinding Protection — If you have a teeth-grinding or clenching habit, clear aligners can function as thin nightguards that will protect your teeth from excessive wear.
To find out if orthodontic treatment is right for you, call Bolingbrook Dental Care at (630) 739-5500 For more information or to book an appointment!